Minimum browser requirements Internet Explorer 10, FireFox 4.0, Chrome, or Safari.
Unknown 0.0 is currently not supported.
Learn More...
Achieve workplace health and safety success with tools, guidance and expertise delivered by UL
Workplace health and safety doesn't cost. It pays. Through transforming your workplace into a culture of safety where learning is valued above training, your organization can achieve: increased productivity, a better informed and prepared workforce and fewer accidents and injuries. Trust UL, a global leader in safety with a history of keeping people safe for over 100 years.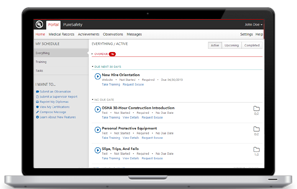 Messages
Attention PureSafety Customers
We will soon be making some changes to our website, including removing the link to PureSafety on our UL EHS Sustainability home page. To ensure you can continue to easily access your PureSafety account, please bookmark ulworkplace.puresafety.com on your browser.



You can now purchase additional courses online by logging in to the Customer Resource Center. Find answers and expand your library in one easy stop.
---